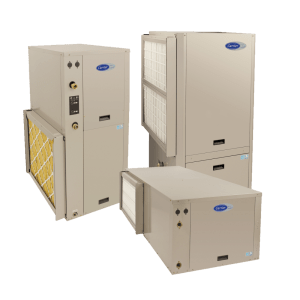 There may be big savings buried in your backyard. With a Carrier® geothermal home comfort system, increased energy efficiency may be waiting just below the surface. Because it taps into the year-round thermal energy stored in the ground, geothermal is among the most energy-efficient, cost-effective home comfort systems available today.
The Earth absorbs almost 50% of all solar energy and remains a constant temperature of 50°F to 70°F depending on geographical location. A geothermal unit utilizes this constant temperature for heating and cooling your home.
You can realize up to 60% energy savings versus traditional systems.
The benefits of geothermal start with savings but don't end there. Carrier geothermal heat pumps come with two-stage or variable-speed blowers that ensure even temperatures year-round and excellent dehumidification. Plus, since the unit is installed indoors, the lifespan is longer than an ordinary outdoor HVAC unit.
Every home is different. That's why Carrier offers a number of system options to ensure your home is fitted with the best geothermal solution.
Geothermal Product Offering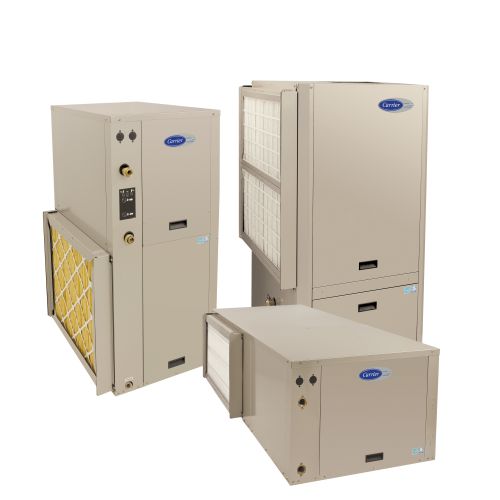 Infinity® Series Geothermal Heat Pump
View Brochure
Model Family: GC
Closed Loop Cooling Efficiency: Up to 30.0 EER
Closed Loop Heating Efficiency: Up to 4.2 COP
Energy Star Rated: ENERGY STAR®
Refrigerant Type: Puron®
Sound Level: Quiet operation
Blower Motor: Variable-speed blower
Compressor: Two-stage compressor
Factory Warranty Parts: 10 year parts limited warranty 5 year labor limited warranty
Factory Warranty Compressor: 10 year parts limited warranty 5 year labor limited warranty
Manufacturer's Stated Benefits:
Open loop cooling: Up to 37.0 EER
Open loop heating Up to 5.2 COP
Summer dehumidification is compressor and blower motor enhanced
Excellent cold weather performance
Sound enhancements: Fully insulated cabinet, compressor blanket and double-isolation compressor mounting system
Microprocessor control board
Recommended control: Infinity control
Optimal humidity and temperature control when managed by the Inifinty Touch control
Large operating temperature range
Corrosion-resistant air coil for long life
Stainless steel drain pan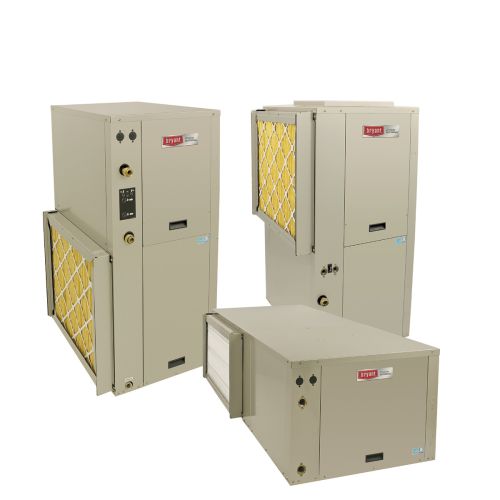 Performance™ Series Geothermal Heat Pump
View Brochure
Model Family: GP
Closed Loop Cooling Efficiency: Up to 24.5 EER
Closed Loop Heating Efficiency: Up to 4.0 COP
Energy Star Rated: ENERGY STAR ®
Refrigerant Type: Puron®
Sound Level: Ultra quiet fan sound levels
Blower Motor: Variable-speed blower motor
Compressor: Two-stage scroll compressor
Factory Warranty Parts: 10-year parts and labor limited warranty upon registration
Factory Warranty Compressor: 10-year parts and labor limited warranty upon registration
Manufacturer's Stated Benefits:
Summer dehumidification is compressor and blower motor enhanced
Excellent cold weather performance
Sound enhancements: Fully insulated cabinet, compressor blanket and double-isolation compressor mounting system
Comfort Alert™ compressor diagnostics
Microprocessor control board
Recommended control: Performance™ Edge® relative humidity thermostat
Heavy-duty, galvanized steel cabinet
Baked on urethane base coat and polyester top coat paint in taupe metallic
Large operating temperature range
Corrosion-resistant air coil for long life
Stainless steel drain pan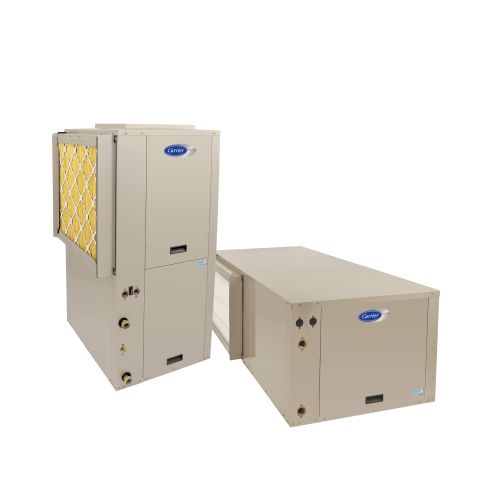 Comfort™ Series Geothermal Heat Pump
View Brochure
Model Family: GB
Closed Loop Cooling Efficiency: Up to 21.7 EER
Closed Loop Heating Efficiency: Up to 4.3 COP
Energy Star Rated: ENERGY STAR ®
Refrigerant Type: Puron®
Sound Level: Quiet operation
Blower Motor: Multi-speed blower
Compressor: Single-stage scroll compressor
Factory Warranty Parts: 10-year all parts and 5-year labor limited warranty upon registration
Factory Warranty Compressor: 10-year all parts and 5-year labor limited warranty upon registration
Manufacturer's Stated Benefits:
Excellent dehumidification and temperature control
Insulated cabinet for quiet operation
Large operating temperature range
Corrosion-resistant air coil for long life
Stainless steel drain pan
Microprocessor control for precision operation